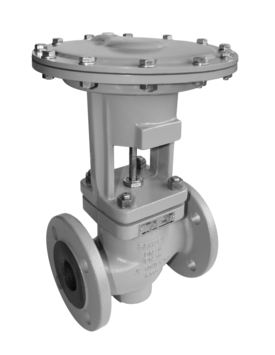 3351 - pneumatic - ANSI
Valve style
Globe valve
USAGE

Low-pressure service
On/off service
VERSION
ANSI
MEDIUM TEMPERATURE
-10 to 220 °C / 14 to 428 °F
SUPPLY
Pneumatic
VALVE SIZE
NPS ½ to NPS 4

PRESSURE RATING
Class 150 to Class 300

Lining
without
Special features
Consisting of on/off valve and actuator
Tight shut-off for liquids, non-flammable gases, and steam
Optionally including RFID transponder with unique marking according to DIN SPEC 91406
Accessories
Type 2 N Strainer
Type 2 NI Strainer
Options
Reinforced spring
Insulating section or bellows seal
The valve 3351 - pneumatic - ANSI can be combinated with the following actuations:
Special features:
On request, SAMSON selects the actuator best suited for the valve and application.
Information
T 8000-1

Information Sheet:
Electric and Pneumatic Control Valves
Series 240 · 250 · 280 · 290 · Series V2001 · PFEIFFER
[EN][DE]
Support
Certificates
Only up-to-date documents are shown in the product selector. Check the documentation site for a list of all documents available.
Show all documents for Type 3351 - pneumatic - ANSI
Pin product
Pin items on your list and contact us if you have any product-related questions.