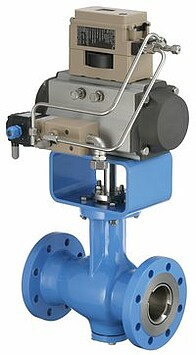 DVGW AT - pneumatic - ANSI
Valve style
Rotary plug valve
USAGE

Throttling service
On/off service
VERSION
ANSI
MEDIUM TEMPERATURE
-20 to 150 °C / -4 to 302 °F
SUPPLY
Pneumatic
VALVE SIZE
NPS 1 to NPS 8

PRESSURE RATING
Class 150 to Class 300

Lining
without
Special features
Control and quick-acting shut-off valve
Suitable fore gases according to DVGW working paper G 260/1
Options
Noise reduction for gases, steam and liquids
The valve DVGW AT - pneumatic - ANSI can be combinated with the following actuations:
Information
WA 414

Sonderdruck:

Das Drehkegelventil als Regelorgan
[DE]
Certificates
Only up-to-date documents are shown in the product selector. Check the documentation site for a list of all documents available.
Pin product
Pin items on your list and contact us if you have any product-related questions.