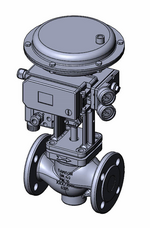 We are making our products available to you as 3-D volume models free of charge. You can use and open the models, which are in STEP and SAT format, in your CAD program.
Our database contains models of the most frequently requested versions of our products. If the version you are looking for is not included, you can download the individual components of the desired version and put them together yourself. If this is not possible, please send your request to your local SAMSON sales office.
To speed up creation of a model, we kindly ask you to provide precise specifications of the product, such as our quotation or order number including the position number and/or the associated configuration ID of the product.